It's been too long since I posted! I wanted you guys to know I'm still here!!
Just for the fun of it, I want to do a little update on The Pregnancy of a Lifetime!
The problem is, until Tuesday, some of my stats will be missing!! But I think I'll do another update on Tuesday evening, after my second ultrasound and after my Big Babies Bump Photo Shoot!!!
Yes, I'm having my First Ever Pregnancy Photo Shoot!! I'll tell you more about it after it happens!
For now, I'll tell you what's been up the past week or so:
I'm craving peanut butter. And lasagne. (NOT together! What, you guys think I'm PREGNANT or something?? HA!) Like crazy!! I think it's always fun to see, with each pregnancy, the different cravings I have. Early on, I craved Frank's Red Hot Buffalo Wing Sauce like crazy. And cucumbers. Right now loaded salads also sound good. And coconut pineapple drinks, like a virgin Pina Colada. And mustard on potatoes. And Omelettes! Something weird that's happening the last week is that I know I really, really need tons of calories for The Babies and myself right now, and food
sounds
good, but as soon as I put it in my mouth, I don't want to eat it! So I'm struggling with getting enough calories every day. I'll have to remedy that, as I want The Babies to be as yummy and plump as
petit chocolat pots du creme!!
I know, I know, aren't I such a linguist??!!
The nausea has returned this week. Ugh. And the fatigue. Maybe The Babies are having a growth spurt?? I read lots of info that said that multiples have their big growth spurt in the second trimester, whereas singles have their big growth spurt in the last month or so. That's probably the reason for the nausea and fatigue coming back. I say, GO AWAY!!
On Tuesday, the day of my next appointment with my peri, I'll be officially 5 months pregnant! Halfway there, I can't believe it.
Today I'm pretty crampy. I have things to do but I'm trying to obey my body and stay off my feet as much as my body needs to. The trouble with that is, I also struggle with laziness! It's the bain of my existence! And I'll tell you, there IS a fine line between resting and laziness, so I try to stay far away from that line but it's so so SO hard for me not to cater to my slothful side!!
The past almost-two-weeks The Babies have gotten SO much stronger! Especially this week, for sure! I feel all sorts of popping, somersaults, and flutterings from all over my tummy! It's one of the fun things about having multiples, in that you feel lots of movement from different places all at once! The Babies are having LOTS more awake time in there!
I'm having ACNE!!! This girl has never, ever struggled with acne hardly a day in her life! And I'm getting it in the most bizarre places! Tiny, pin pricks of red dots that itch and have a teeny white head! My nose looks like Rudolph!!!
I have NO idea how much weight I've gained. I know how much I'm
supposed to
gain, according to the whole entire internet AND my peri! I'm not kidding, when I was making my next appointment two weeks ago at my peri's office, I spotted The Scale in the hallway, and ladies, this in no ordinary scale! The thing looks like a treadmill on steroids!! I've never seen anything like it. It isn't your typical Doctor's scale with the sliding weight measurer, oh no, this Bad Boy is digital!! And I have to step on it for the first time on Tuesday!! Truthfully though, I really don't think I've gained any weight since my 16 week (4 mth) check up at my regular OB's. Hopefully I don't get into too much trouble. I'm really just saying to-heck-with the recommended weight gain for multiples and going with what my body says. I don't want to be The Pillsbury Dough Girl when The Babies are born!!
I've discovered that I
LOVE
me some Maxi dresses!! I was sooooo scared of Maxi dresses! I thought for sure that Curvy Gals like me couldn't pull one off.....but I looked online at Motherhood Maternity, and read all the reviews. I bought myself two really cheap ones, a long one and a short one, and ohhhh, it was love at first wear!!! I pop a cardigan over the dress and I'm good to go! And I can wear them Post Babies too!!!
I've been looking at double strollers and car seats. I've settled on a stroller and car seat brand and pattern. My husband won't let me buy them until we get our van in a few weeks, and truthfully, I have NO IDEA how the money will come in for everything we need!!! The Diaper Budget alone will equal twice the National Debt!! Nevertheless, I have toyed with the idea of putting together a registry....but don't want to seem greedy or grasping or anything!! What would ya'll do if you were having child #8 AND #9 at once??? Here's a picture of my stroller: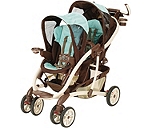 It's a Graco brand Duo stroller, and the pattern, though you can't see it real well, is called Milan, and it's blue and brown circles all over the fabric. The rating on this stroller is 4-5 stars!!! Here are the car seats: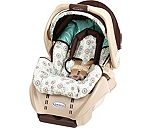 I really love this pattern and the blue and brown combo! But it'll be a MINT to get two car seats and the stroller.
I'm trying to drink lots of water.
I'm super incredibly HOT lately!! I MUST have all windows open at all times!
Okay, I think that's long enough for a quick update!! I'll post more Tuesday evening! And now I'm off to make some lasagne!! Have a great Sunday evening! MWAH!